Experience the 2017 Civic Type R Performance
A Superpowered Engine
Drivers get a real taste of power when behind the wheel of the Civic Type R. Equipped with a 2.0L Inline 4-cylinder engine with the ability to easily dole out up to 306 hp and 295 lb-ft of torque, Civic Type R performance truly starts at the core. The addition of a three-mode drive system also gives drivers control over handling and performance with Comfort, Sport, and +R drive mode options.
Transmission
The Civic Type R's racing potential is clearly seen when we take a look at the standard 6-speed manual transmission with rev-match control, lightweight single-mass flywheel, and helical limited-slip differential. This kind of control and speed is exactly what it takes to accomplish a feat as great as setting an all-new record time for front-wheel drive vehicles at the Nürburgring—which the 2017 Honda Civic Type R did.
Fuel Efficiency
Even with so many incredible performance aspects, the 2017 Civic Type R doesn't pass up the chance to provide drivers with great fuel economy. The 6-speed manual transmission, front-wheel drive vehicle is capable of getting an EPA-estimated 22 mpg in the city, 28 mpg on the highway, and 25 mpg combined—quite impressive numbers for such a high-performing vehicle.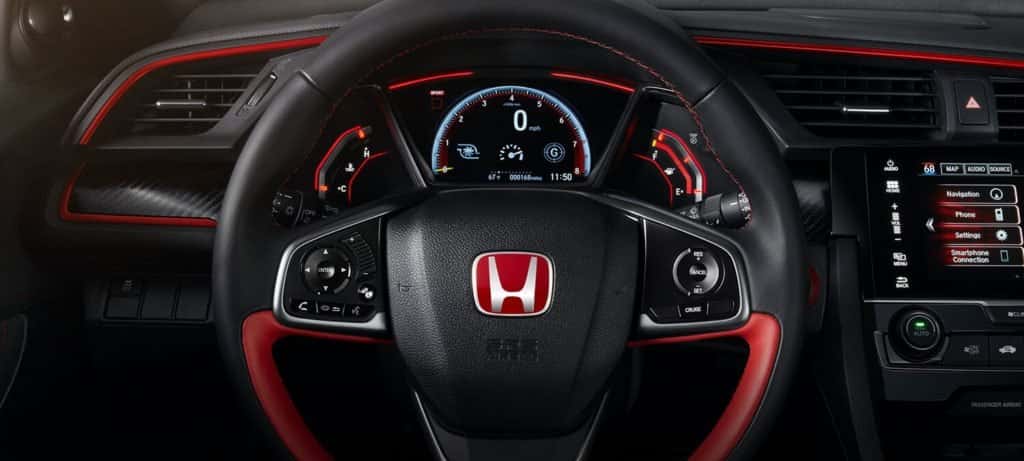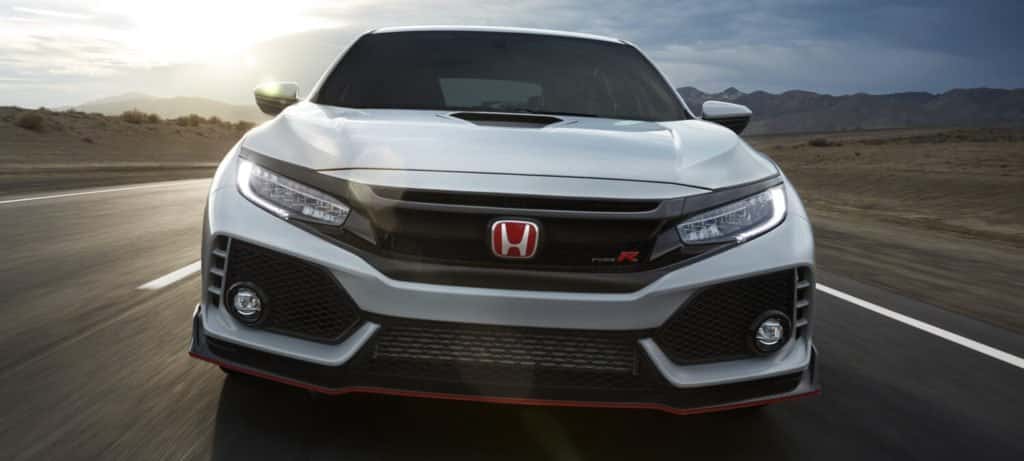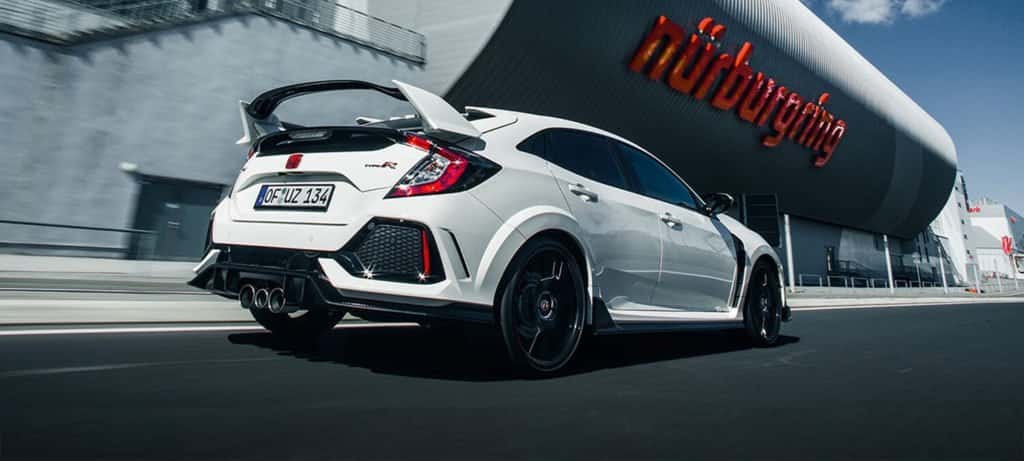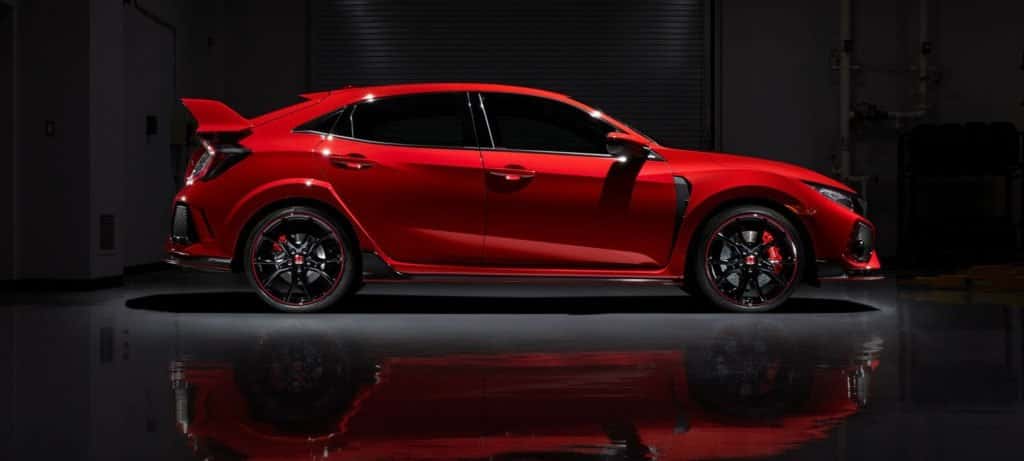 Suspension
The 2017 Honda Civic Type R doesn't hold back when it comes to any performance aspect, which can be seen by the vehicle's intense focus on providing a steady, track-ready suspension setup. With an adaptive damper system, dual-axis MacPherson strut front suspension, multi-link rear suspension, and Brembo 3 four-piston aluminum front brake calipers, you can bet on receiving premium Civic Type R performance.
Wheels / Tires
To ensure that the Civic Type R performance stays at the top of its game, the vehicle is equipped with stylish and race-ready 20-inch alloy wheels. Maximum-performance summer tires are available as well.
Extra Performance-Enhancing Features
It should be clear by now that the Civic Type R works hard to provide Detroit drivers with impeccable performance in every possible way. Alongside these main performance factors discussed above, the Civic Type R also includes some extra performance-enhancing features to give drivers more control and make each drive a little safer. Some of these features are as follows: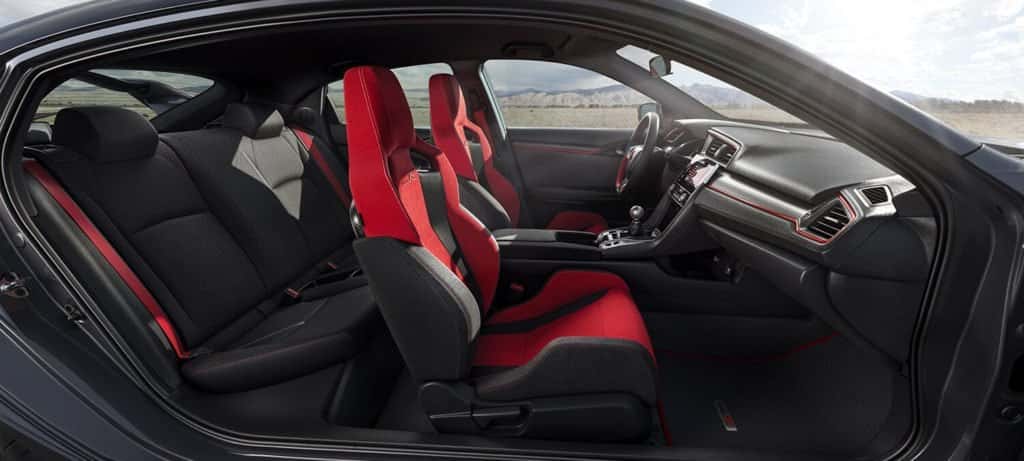 Vehicle Stability Assist with Traction Control – To ensure that drivers are able to stay safe and maximize performance on the track, this feature helps to keep the vehicle firmly rooted on the road, even in inclement weather conditions or bumpy terrain. It also comes in handy for keeping the driver in control of the vehicle during sharp acceleration, quick braking, and turns.
Anti-Lock Braking System – To reduce wear to tires and enhance overall safety, this system works to keep the brakes from locking up during braking, which can cause skidding and reduce performance.
Electronic Brake Distribution – By distributing braking pressure evenly to each individual wheel, electronic brake distribution aids in bringing the Civic Type R to quicker and safer stops.
Brake Assist – If the driver suddenly applies heavy braking pressure, brake assist kicks in and adds extra pressure to help bring the vehicle to a quick, yet safe stop.
Tire Pressure Monitoring System – This system helps keep drivers informed of the vehicle's current tire pressure, alerting them when it's time for a tune-up so that they can continue to experience maximum Civic Type R performance.
Experience True Civic Type R Performance Today
When it comes to 2017 Honda Civic Type R performance, the only way to truly understand it is to experience it. Let's make your dreams a reality and get you behind the wheel of this amazing vehicle for a test drive. To do so just stop by your local Detroit Area Honda Dealer and we'll be ready and waiting to assist you! We can also be contacted online, where you can learn more about our financing process and current offers.