Enjoy Unrivaled Cargo Capacity and Storage Space with the 2017 Honda HR-V Seating Configurations!
Adaptability and Versatility in Honda HR-V Seating Configurations
In the 2017 Honda HR-V, it's easy to strike the perfect balance between seating space and cargo capacity. Like many models in its segment, this SUV can seat up to five passengers comfortably, but unlike the competition, its sp1 by employing its second-row Magic Seat. At first glance, the HR-V's Magic Seat won't seem very different from other 60/40-split benches that have become common across the segment, but look closer! The Honda Magic Seat allows the HR-V to arrange the seats in Utility Mode, Long Mode, and Tall Mode, and with this capability, the HR-V can accommodate cargo of nearly every shape and size. The 2017 HR-V provides 24.3 cubic feet of cargo space with all of its seats in upright positions, but expanding this cargo bay really couldn't be easier! When its Magic Seat has been shifted into Utility Mode, this SUV is able to store up to 58.8 cubic feet of equipment, furniture, and adventure gear!
Utility Mode:
HR-V drivers can shift their seating into Utility Mode in order to maximize their cargo space. In this setting, the HR-V's Magic Seat lays flat to create a storage space that's both long enough and wide enough for all sorts of common items. In this configuration, drivers will be able to carry furniture, full-size bicycles, and much more!
Long Mode: With the Long Mode seating configuration, the front passenger seat can be laid flat, and you'll still be able to seat a passenger in the second row! This setting gives the HR-V a cargo bay of up to an incredible 8 feet in length.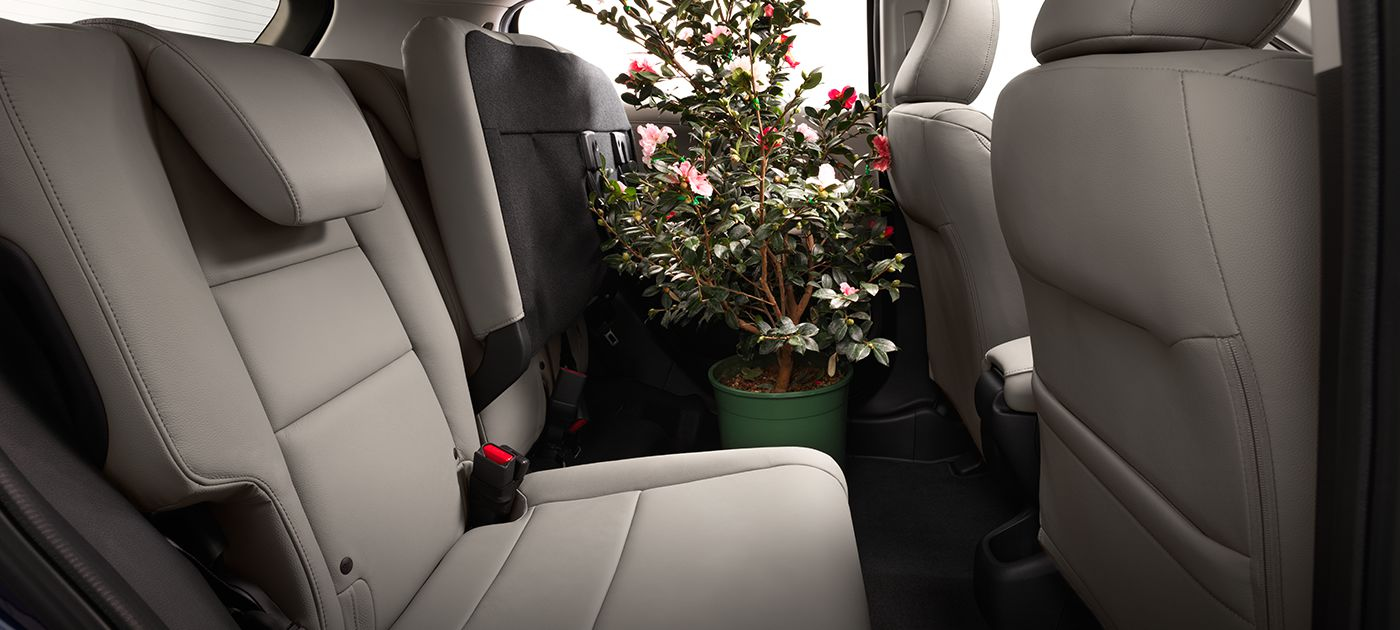 Tall Mode: Of course, not all cargo can be set on its side and left to slide around in your vehicle's rear. By folding up the seat bottoms in the second row, drivers and passengers will access a storage space of 4 feet high! This setting makes it easy to transport cargo that just won't fit in other crossovers, and what's more, owners will only need to shift one seat in order to access Tall Mode.
Get Comfortable with the 2017 Honda HR-V Interior Dimensions
The 2017 HR-V's seating configurations give it an edge over the competition, but they're only so effective as features because they've been equipped in a spacious, smartly designed crossover SUV! The HR-V's cargo bay has been crafted to minimize lift-over height, so loading your vehicle with heavy objects won't have to feel like a chore. Even with each of its seats in their upright positions, the HR-V provides its owners with cargo-area tie-down anchors and many other smaller storage spaces, besides! Those who take the time to explore the HR-V's interior will find standard door-pocket storage bins, a passenger-side seatback pocket, and a high-deck center console with sliding armrest and storage compartment.
Passengers will be comfortable in the HR-V no matter where they sit, and with 100.1 cubic feet of interior passenger volume, the HR-V will still feel luxurious even when it's been loaded full of people! Front-seat passengers will enjoy 41.2 inches of legroom and 56.8 inches of shoulder room, while rear passengers will be able to stretch out with 39.3 inches of rear legroom and 54.5 inches of shoulder room. Hip room in the front and back seats measures at a spacious 53.1 inches and 47.4 inches, respectively.