The 2017 Honda Odyssey Cargo Capacity and Seating Configurations
Seating Configurations
The Honda Magic Seat has recently received quite a bit of attention for what does for the 2017 Honda HR-V and 2017 Honda Fit, but it's been helping out Odyssey drivers for years. The Odyssey Magic Seat is just a bit different, but rest assured that it earns its name just the same. Between this magical third row and multiple second-row seating position options, the Odyssey lets you customize its cabin to fit your needs as they arise.
Second-Row Wide Mode: Outboard seats in the second row of Odyssey models can be moved into Wide Mode, sliding out 1.5 inches to each side and offering even more room to get comfortable (EX and higher models).
Second-Row Center Seat: On models featuring a second-row center seat (EX and above), this multi-function position can slide forward to offer more room for third-row passengers.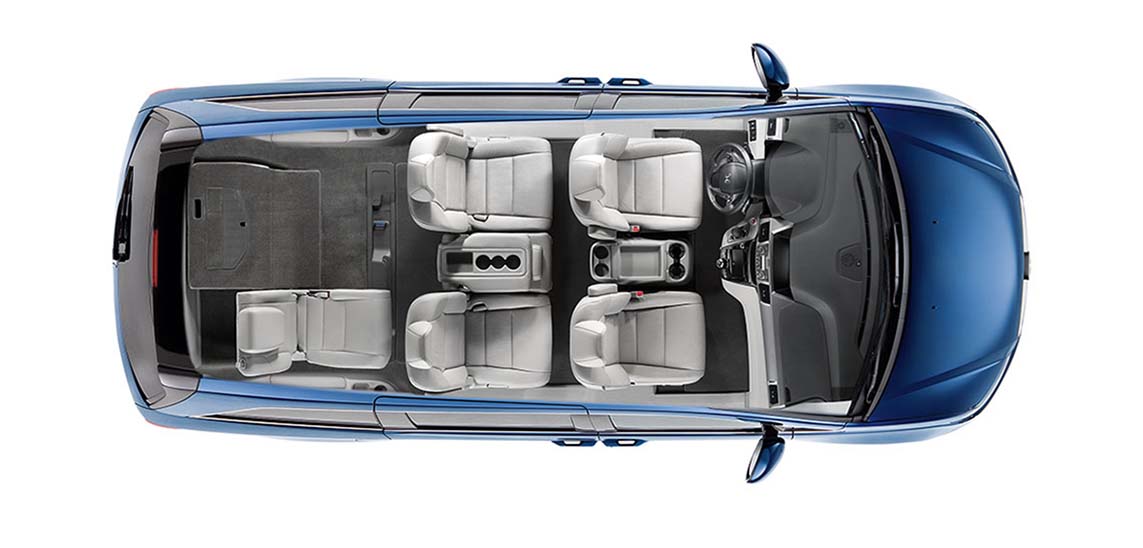 Magic Seat: Honda's Magic Seat is found on each 2017 Odyssey and features a 60/40-split folding design. In one easy motion, you can fold part or all of the seat right into the floor to expand your cargo area.
Available with room for as many as eight passengers, these seating configurations revolutionize the space of the Odyssey's cabin and allow you to make the most of the 172.6 cubic feet of passenger space.
Storage Compartments
Whether going on a family road trip or a quick drive to the store, kids and adults alike need somewhere they can tuck their essentials. Smartphones, handheld video games, wallets, and other items can be conveniently tucked in a wide variety of places throughout the Odyssey, always within reach. Here are just some of the minivan's storage options:
Lockable glovebox
Rear storage wells
Center console
Center stack with low storage bin
Beverage holders (located in each row)
The Odyssey also features multiple garment hooks, convenient under-seat storage, and a cool box for fresh drinks (EX-L and higher trims).
Cargo Capacity
One of the great strengths of the modern minivan is that it ensures there's enough room for people and their things. The 2017 Honda Odyssey cargo capacity has more than enough room for a load of groceries or the kids' backpacks and school items, but it's eager to oblige when you need more space. If you aren't filling all of the seats of your minivan, some of the 172.6 cubic feet of cabin room can convert into cargo—see how the specs break down:
Standard Cargo Storage: If you have all of the Odyssey's seats up, its rear storage area is practically cavernous at 38.4 cubic feet, offering significantly more cargo room than many modern SUVs. When more space is needed, though, just reach for the Magic Seat.
Expanded Cargo: After folding the Magic Seat down, the cargo area expands significantly, making room for small furniture like a patio table or a love seat with as much as 93.1 cubic feet of space behind the second row.
Full Cargo Carrying: Sometimes you need to max out a vehicle's cargo capacity, and when you're helping someone move or bringing home a new sofa, the Odyssey is ready with 148.5 cubic feet of storage behind the first row of seating.
Detroit families in need of a vehicle that's ready for nearly anything, the Odyssey is waiting for you. If you fill up the cabin and still have stuff that needs hauling, remember, Honda's minivan can tow up to 3,500 pounds.
Minivan Essentials
Between moving cargo and people, life behind the wheel of a minivan can get a bit stressful. Honda makes a pair of features available that we think are minivan essentials, making your life as an Odyssey driver a bit easier. Both of these amenities are found on the Special Edition and Touring Elite trims:
HondaVAC:le HondaVAC vacuum cleaner is ready to keep your Odyssey clean. It reaches every inch of the cabin and runs for up to eight minutes after shutting off the engine; just enough time to sweep up spills.
Rear Entertainment System: The available rear DVD entertainment system makes the long drives just zip by with a favorite TV show or movie, transforming your Odyssey into a mobile family room.
These two essentials keep your minivan clean and passengers entertained, making for one happy driver behind the wheel.