Maximize Your Capabilities with the 2017 Honda Ridgeline Cargo Capacity and Storage
A One-of-a-Kind Truck Bed
The 2017 Honda Ridgeline's truck bed is bound to set a new standard of quality for the entirety of the pickup segment. Potential buyers will immediately notice the Ridgeline's extra-large truck bed, but it's not just size that sets this pickup apart from the pack. Closer inspection will reveal a wide variety of features, including a hidden box-mounted trunk, built-in tie-downs, and a dual-action tailgate, which make the Ridgeline uniquely well suited to the myriad demands of work and play.
Expanded Bed with Hidden Wheel Wells: With the tailgate up, the Honda Ridgeline's truck bed measures 60 inches wide by 64 inches long, and with the tailgate down, the length of the truck bed extends to a full 83 inches! Additionally, the Ridgeline's wheel wells are much less bulky than those of other pickups. Thanks to this innovation, you'll have up to 4 feet of space in the cargo bed where objects like sheets of plywood can lie completely flat!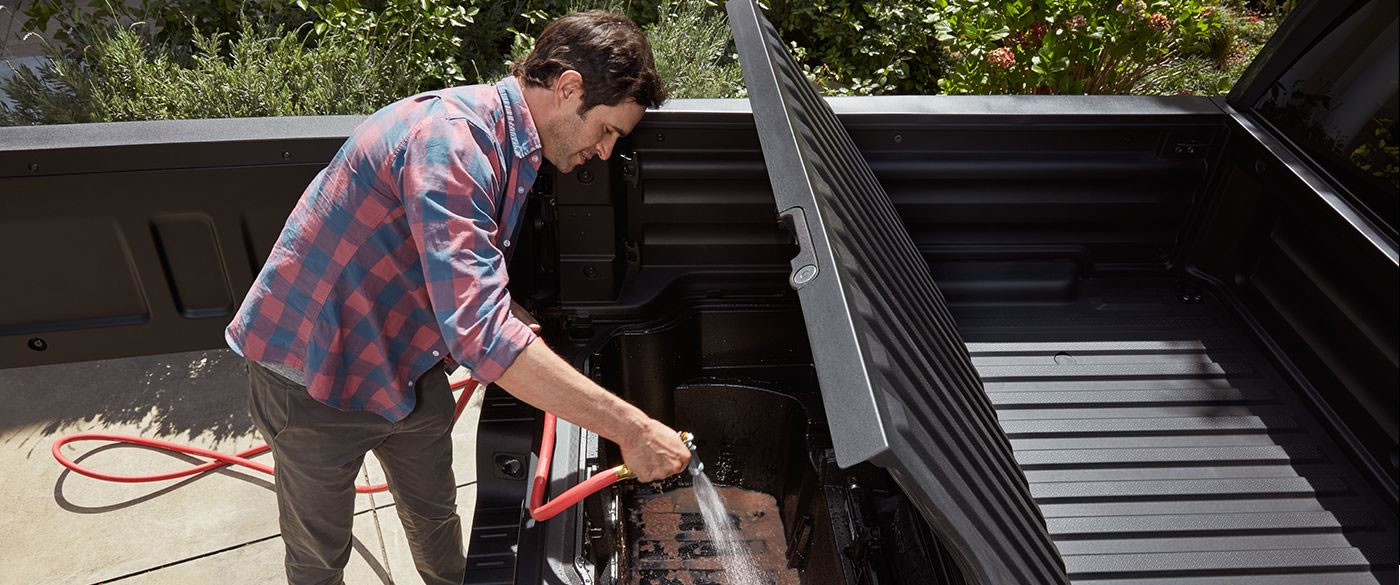 Box-Mounted Trunk: Among the other innovations in the Ridgeline's truck bed is a box-mounted trunk that gives you an additional 7.3 cubic feet of storage space. The lockable roof of this trunk lies flat on the cargo bed, which means that it won't take up the space you'll need for bulkier cargo.
Built-in Tie-Downs: An expansive truck bed can be an issue in itself if your equipment is left to slide around! You'll never have this problem in the Ridgeline, because its built-in tie-downs can secure your precious cargo with up to 350 pounds of force.
Dual-Action Tailgate: The dual-action tailgate that comes equipped on the Ridgeline makes it a breeze to load and unload unwieldly equipment. Most tailgates only open in one direction, but in the Ridgeline you'll get twice the functionality. An additional set of hinges on the Ridgeline's tailgate allow it to swing open to the side!
Inside the Ridgeline's Cabin
The Ridgeline's expansive truck bed is perfect for carting messy, bulky cargo, but we suspect that there will always be some items that you'd prefer to keep close at hand. To that end, the Ridgeline's cabin has been equipped with interior storage space that's ideal for work computers and children's toys alike! Console storage, under-seat storage, and a rear folding bench seat give the 2017 Ridgeline a serious edge over competing pickups.
Stow-and-Go Compartment: A special compartment in the Ridgeline's center console has enough space to contain a 10-inch tablet! The 12-volt power outlet located inside this stow-and-go compartment makes it easy to keep your devices charged on long drives.
60/40-Split Bench Seating: Most pickups have their cargo space concentrated in their truck beds, but the engineers of the Ridgeline know that not all cargo is perfectly suited to travel in the open air! By folding up the 2017 Ridgeline's 60/40-split bench rear seating, even a full-size bicycle can be situated snugly inside the cabin.
Under-seat Storage: An additional 2.9 feet of cargo space can be found beneath the rear row of seats in the Ridgeline's cabin. Perfect for keeping track of passengers' belongings and dirty workday gear, this under-seat storage is easily accessible, even when the Ridgeline is in motion.
Overall Interior Space: Many pickups available today can feel cramped and crowded, especially in the rear row of seating. The Ridgeline is the exception to the rule, as it seats five passengers very comfortably. On the road, everyone will feel inclined to stretch out thanks to this pickup's 109.7 cubic feet of interior space. What's more, passengers in the front and the rear of this vehicle will enjoy 40.9 and 36.7 inches of legroom, respectively.