Car & Driver has considered the mid-size SUV lineup and put them head to head. Based on a number of criteria that mid-size SUV drivers look for when shopping including performance dynamics, interior space, features and more, Car & Driver has found the 2019 Honda Passport simply beats out all the competition. Read on to see how these mid-size SUVs compared against each other:
2019 Honda Passport
2019 Chevrolet Blazer
2019 Ford Edge
2019 Nissan Murano
2019 Hyundai Santa Fe
2019 Nissan Murano
Coming in the last place on Car and Driver's list, the Nissan Murano had some good points to make but it ultimately makes a lackluster argument. Car and Driver says:
Highs: Cushy front seats, best ride in the group.
Lows: Raucous engine, F-body space efficiency, CVT.
Verdict: Perfect if all you ever do is coast short distances downhill with a single passenger.
2019 Ford Edge
Next on the list is the Ford Edge. Compared to the Passport, The Edge has a much heavier curb weight which makes the already weaker braking system feel even more sluggish and down right nerve-racking in some situations. Car and Driver's judgement:
Highs: Seriously silent, low-stress engine, good grip.
Lows: Tall hoodline, bizarre control relationships, overweight, underdamped.
Verdict: It's as awkward in daily use as it is on a mountain road.
2019 Chevrolet Blazer
Coming in 3rd place is the Chevrolet Blazer. Drivers considering the Blazer might be excited about all amenities and features it offers inside and out until they take a look at the price tag. Compared to the Passport, the Blazer offers a less comprehensive value. Car and Driver has more to say:
Highs: Rewarding control feel and response, quick.
Lows: Pricey, harshest ride, recalcitrant downshifts.
Verdict: An SUV for blazing down back roads and burning through your savings.
2019 Hyundai Santa Fe
Coming in 2nd is the Hyundai Santa Fe. Unlike the Chevrolet Blazer, drivers will get more bang for their buck, but it gets left in the dust in terms of performance compared to the Passport. Car and Driver's thoughts:
Highs: Inexpensive, packaged like Costco, feature-laden.
Lows: Blasé control feel, merely adequate dynamics.
Verdict: Simple, usable, economical, effective. It's the practical family's choice.
And The Winner…. 2019 Honda Passport!
The winner of the Car and Driver list of the Best Mid-Size SUVs is the Honda Passport. Not only did the Passport have the fastest off the line time in a 0-60 acceleration test, but it also performed with a greater efficiency than any of the other options on the list. Car and Driver notes the spacious cabin for cargo as well as: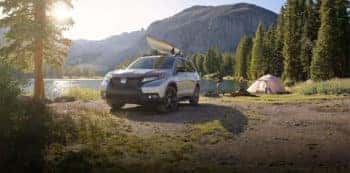 Highs: Big on space, small from behind the wheel, quick, priced right.
Lows: Enough with the push-button shifter already, still needs more knobs.
Verdict: The best combination of utility and driving pleasure also comes with a reasonable price tag.
Test Drive Your New Favorite Mid-Size SUV Today
Find out more about the 2019 Honda Passport including cargo space, all-wheel drive capability, and performance specs by contacting us or visiting your nearest Detroit Area Honda Dealer. Explore current offers and sit behind the wheel of the Passport model that is right for you with a test drive today.