Honda Civic Hatchback Specs Outpace Expected Horsepower and Torque Ratings
Honda Civic Hatchback Horsepower and Torque
The 2019 Honda Civic Hatchback engine uses direct fuel injection to deliver fiery performance unmatched by lesser vehicles. As
noted by Edmunds.com
: "The Civic feels strong when you roll onto the gas to execute a pass and quick at city speeds thanks to ample low-end power".
The same in-line 4-cylinder with turbocharger is used across all models, but output differs according to trim level:
Up to 174 hp and 162 lb-ft of torque with the Standard LX.
Up to 180 hp and 177 lb-ft of torque with Sport Models
Up to 180 hp and 162 lb-ft of torque with Sport Touring models
That puts Honda Civic Hatchback standard power well above limits set by rival models:
Mazda3 Hatchback: Up to 155 hp and 150 lb-ft of torque as standard.
Toyota Corolla Hatchback: Up to 168 hp and155 lb-ft of torque as standard.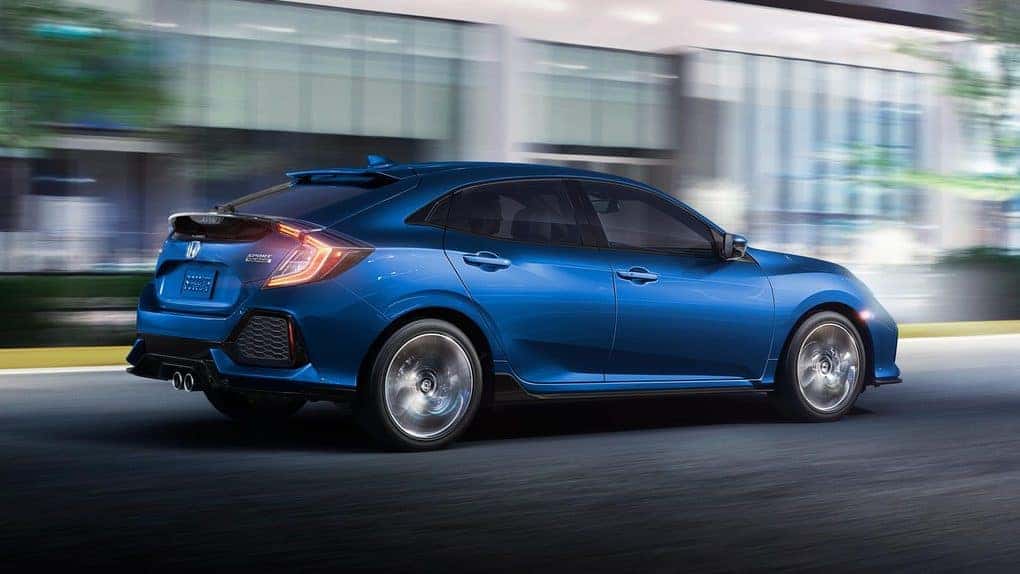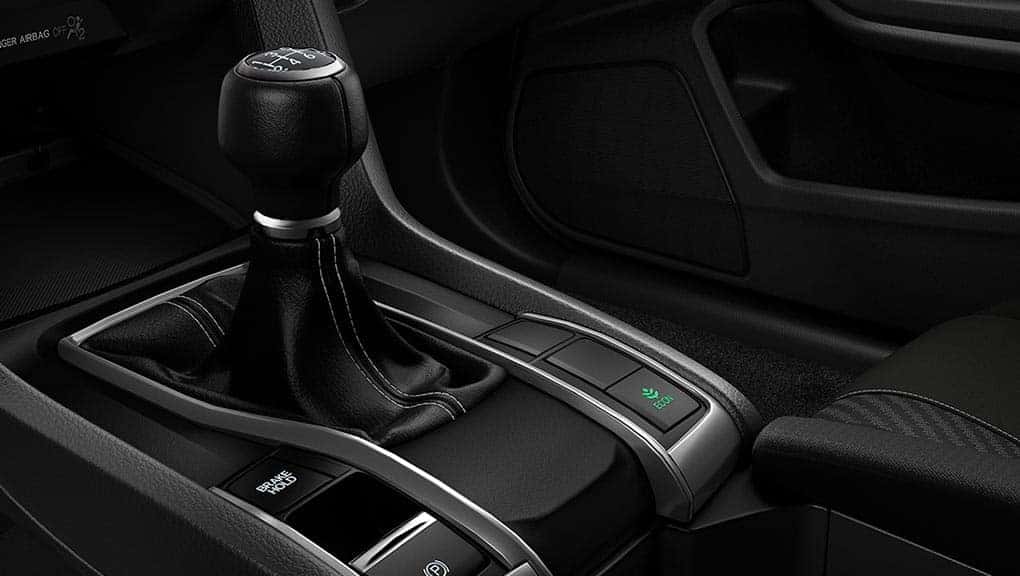 Honda Civic Hatchback Fuel Economy
Even with such an energy-packed power plant at its core, the Honda Civic Hatchback can still go the distance and then some without forcing you to pull over for gas thanks to two cutting-edge transmission systems:
6-Speed Manual Transmission: Provides fun control for the driving purist. Low internal friction ensures precision shift action, and close-ratio gears noticeably improve acceleration.
Continuously Variable Transmission (LL-CVT): Replaces the multiple gear setup with a pulley system that offers a continuous range of effective gear ratios. Dual-Mode Paddle Shifters are available with Sport models and fitted as standard with the Sport Touring.
You can expect to make:
Up to an EPA rated 31 mpg in the city and 40 mpg* on the highway with Continuously Variable Transmission.
Up to an EPA rated 29 mpg in the city and 38 mpg* on the highway with 6-speed manual.
Honda Civic Hatchback Performance Features
The Honda Civic Hatchback's powertrain is central to its efficient yet energetic ride, and it's complemented by an elite group of performance features to further optimize your drive.
Select performance features include:
MacPherson Strut Front & Multi-Link Rear Suspension: The Honda Civic Hatchback's elegant suspension system provides a calm, controlled drive without ever making you feel disconnected from the road below.
Variable Ratio Electric Power-Assisted Rack-and-Pinion Steering (EPS): Top-tier steering technology makes the link between yourself and the vehicle feel refreshingly immediate.
Power-Assisted Ventilated Front Disc/Solid Rear Disc Brakes: Sophisticated brakes deliver sure, reliable stopping power.
All-Season Tires: Even entry-level models come fitted with all-season tires to help carve through corners in the rain and keep cruising on the hottest blacktop during summer.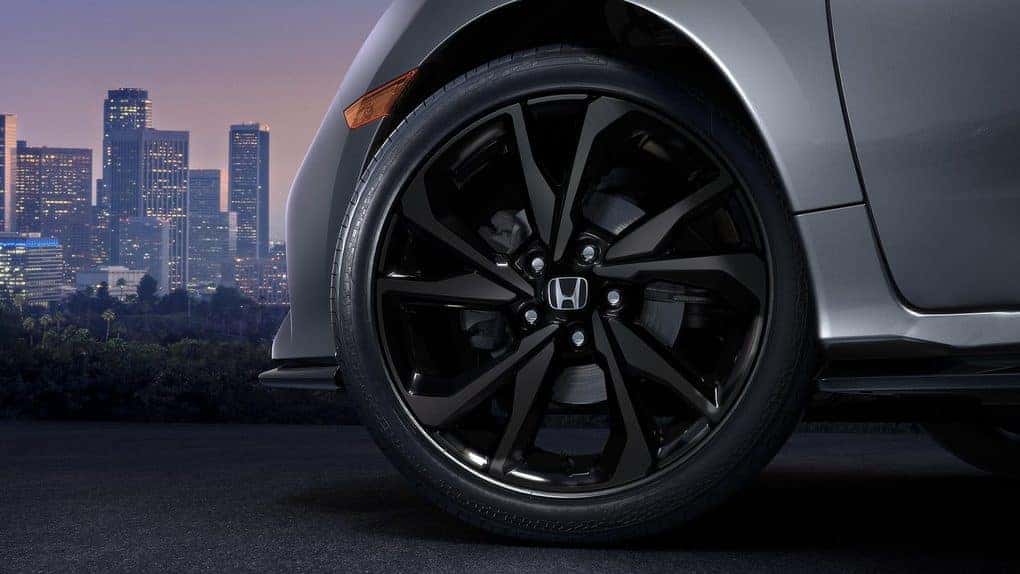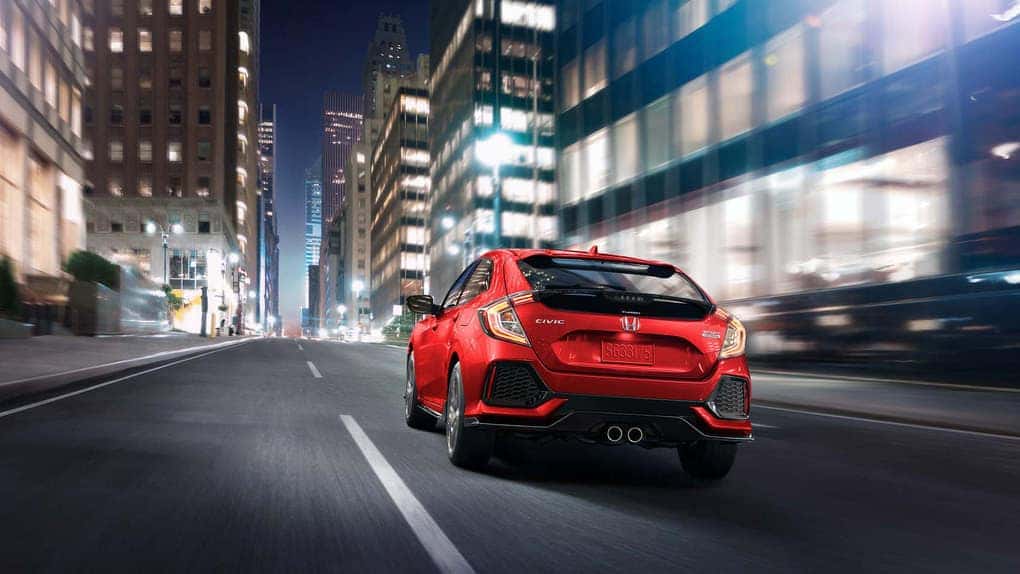 Honda Civic Hatchback Active Safety Features
Protection is the central responsibility of all Honda Civic Hatchback active safety features, but most work towards that goal by sharpening performance.
Active safety features include:
Vehicle Stability Assist™ (VSA®) with Traction Control: Monitors your drive and makes small performance adjustments to maintain stability and control.
Electronic Brake Distribution (EBD): Spreads braking force intelligently between all four wheels when you apply the brakes.
Brake Assist: Recognizes emergency braking scenarios and automatically applies more pressure to bring you to a stop faster.
Tire Pressure Monitoring System (TPMS): Helps avoid control problems and prevent blowouts by letting you know if there's ever too much or too little air in your tires.