Where are Honda models made? Some drivers might be surprised to learn that they are made right here in the United States. In fact, Honda models were named to 4 of the top 10 spots in Cars.com 2019 American-Made Index. The list is comprised of the vehicles that were found to contribute the most to the U.S. economy due to factors including assembly location, domestic parts content, U.S. factory employment, and more. Honda has been making their cars in the United States for more than 35 years in over 12 manufacturing facilities across the U.S.
---
The Winning Honda Models
Four Honda models and two Acura models earned places on Cars.com top 10 2019 American-Made Index. The

Honda models were all built and produced in Lincoln, Alabama while the Acura MDX and RDX are made in East Liberty, Ohio. But these are not the only Honda models that are American-made. These models join the rest of the Honda model lineup that are produced in the U.S., more than 1.2 million of which were produced in the U.S. in 2018 alone.
2019 Honda Odyssey – 2nd place
2019 Honda Ridgeline – 3rd place
2019 Honda Passport – 4th place
2019 Honda Pilot – 7th place
2019 Acura MDX – 6th place
2019 Acura RDX – 10th place
---
Excellence on the Road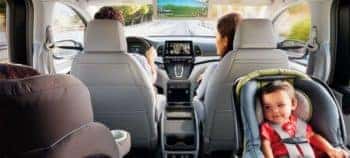 Not only does Honda make their vehicles in the U.S., but they also make some of the best vehicles on the roads. The Honda Odyssey "has a ton of family-friendly bells and whistles and a high-quality interior" according to U.S. News and World Report, and the Honda Ridgeline is pushing the envelope of the pickup class with a comfortable ride, plenty of capability, and even a built-in sound system in the truck bed.
---
Test Drive Your Favorite American Made Model Today!
Find out more information on these award-winning models by contacting us or visiting your nearest Detroit Honda Dealer. Honda models include sedans, hatchbacks, hybrid vehicles, and SUVs and pickups with all-wheel drive. Explore current offers and experience the Honda model that is right for you with a test drive today.