What is Lane Keep Assist?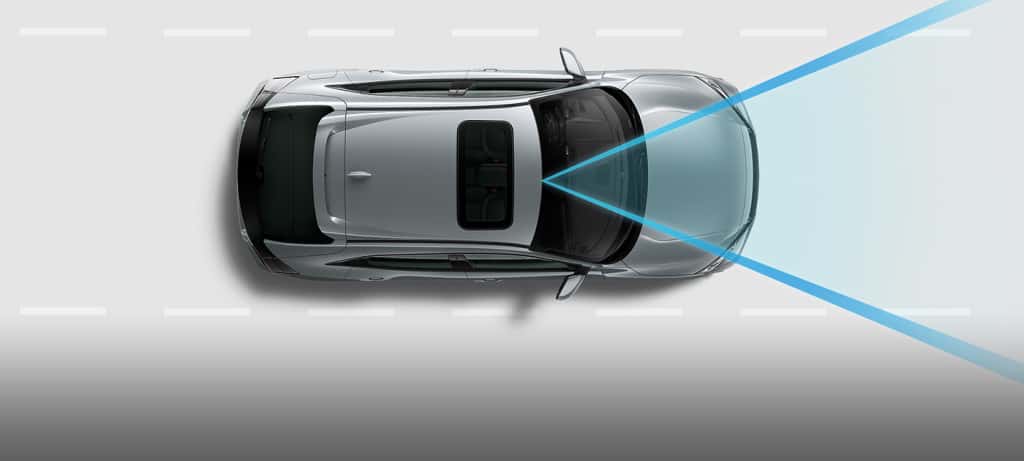 What is Lane Keep Assist? It's a feature of the Honda Sensing safety suite that provides an alert if you start to drift from your current lane and even helps you stay in the right one. Okay, but how does Lane Keep Assist work? We've put together a quick and accessible overview to fill you in.
How Does Lane Keep Assist Work?
Your Honda's Lane Keeping Assist System is responsible for helping you stay centered in your detected lane. It provides a more confident driving experience using a windshield-mounted camera to identify road markings at speeds between 45 mph and 90 mph.
If you're detecting deviating from the center of your detected lane without the turn signal being activated, the Electric Power Steering (EPS) system will automatically apply gentle corrective torque to guide you back to the middle. You'll also receive tactile and audible feedback to let you know you're drifting.
It isn't just a state of the art safety system – it's a feature drivers trust and love. A survey by Consumer Reports covering 72,000 vehicles reported that:
35% of drivers said the system helped them avoid a crash.
74% of drivers were very satisfied with Lane Keep Assist.
65% of drivers trusted Lane Keep Assist to work every time.
If you ever want to turn Lane Keep Assist off, all you need to do is:
Press the MAIN button on your steering wheel until LKAS appears on the multi-information display.
Press LKAS.
Lane outlines on the display will turn dotted to show the system is turned off (and then turn solid once you turn it back on).
Press the MAIN or LKAS button to turn off the system.
What Features Come with Honda Sensing?
Lane Keep Assist is just one of the driver assistance features available to enhance your peace of mind through every drive. Further features include:
Forward Collision Warning
Scans the area ahead of your vehicle to check for potential frontal collisions, then provides visual and audible warnings when one is detected to give enough time for safe braking.
Collision Mitigation Braking System™ (CMBS™)
In the unlikely event of a collision becoming unavoidable, your brakes will be applied automatically to reduce impact forces.
Road Departure Mitigation System (RDM)
Identifies the side of the road by detecting painted lane lines, Botts' Dots, and cat's-eye markers, then provides corrective steering if you start to cross those markers.
Adaptive Cruise Control (ACC) with Low-Speed Follow
Works like a conventional cruise control system by letting you set your desired speed, then enhances safety and convenience by automatically bringing your speed up or down to maintain a safe distance from the vehicle ahead, even in stop-and-go traffic.
Cross Traffic Monitor
Keeping tabs on vehicles approaching from left and right can be tricky when you're reversing, so the Cross Traffic Monitor uses a radar sensor housed in the rear bumper to warn you if a vehicle is approaching from either side.
Auto High-Beam Headlights
Nighttime driving gets a safety boost with headlights that intelligently turn on and off as other vehicles approach and pass at night. Simply set your headlight controls to AUTO and they'll switch automatically.
Traffic Sign Recognition System
One of the latest Honda Sensing features, the Traffic Sign Recognition System recognizes and remembers the road signs you pass, then displays them in the center of the speedometer to keep you aware of the current speed limit.
Which Honda Models Offer Honda Sensing?
You might expect to find cutting-edge Honda Sensing features like Lane Keep Assist available only with flagship models, but that package is offered with a diverse selection of models and even comes as standard with many Honda vehicles.
Current Honda models available with Honda Sensing include:
Honda Passport
Honda Civic Sedan
Honda Accord
Honda CR-V
Honda Civic Coupe
Honda Insight Hybrid
Honda Pilot
Honda Civic Hatchback
Honda Fit
Honda HR-V
Honda Odyssey
Honda Ridgeline
Honda Clarity Fuel Cell
Honda Clarity Plug-In Hybrid
Find Out More About Leading Honda Sensing Technology by Visiting Your Nearest Honda Showroom
The team at your local Detroit Honda dealer will be happy to help you arrange a test drive in any of the models listed above and talk you through all our latest special offers. For any further advice or assistance, feel free to contact us today.
Latest on Honda Models
​​Each year, Cars.com puts out a list that ranks the best American-made cars and SUVs called the American-Made IndexⓇ*. Cars.com evaluates each model based on assembly location, parts content, engine origins, transmission origins, and U.S. manufacturing workforce. Cars.com uses a 100-point scale, which groups related variants under the same nameplate and platform but will separate…

The 2021 Honda HR-V is the smallest SUV in the Honda line-up, but you would never know it due to its spacious cabin with seating for five and the amount of cargo space. The Honda HR-V gets its cargo space from the innovative folding 2nd-row seat, known as the "Magic Seat." Compared to other subcompact…

The 2021 Honda Passport has been named one of the "Best Cars For The Money" by U.S. News & World Report*. According to U.S. News & World Report Executive Editor Jamie Page Deaton, the new Passport received this accolade because "The Passport is the perfect example of a car that balances value and quality." She…