Aggressive winter conditions are nothing new to Detroit area drivers. When the temperature drops and the snow begins to fly you can at least relax knowing that your vehicle is ready for anything that the weather throws your way—just follow these steps to prepare your car for winter. We have laid out the areas to put extra focus on so your vehicle will stay efficient and you will stay safe. If you simply don't have the time or aren't comfortable with taking on some of these tasks yourself, Detroit Area Honda Dealers have a highly knowledgeable team of Honda certified technicians running our service centers who are more than happy to look over your vehicle for you!
---
Tires
Perhaps the most important aspect of winter driving preparation is your tires. When Mother Nature decides to bombard the roadways with snow and ice, tires are on the frontline of your defense strategy.
Check Tire Pressure, including the spare tire. Tire pressure can vary with temperature change.
Check Tread Wear and Depth to assure proper grip capabilities and safety.
All-Season Tires are good; Studded Snow Tires are supreme for traction.
---
Fluids
Maintaining clean fluids and proper fluid levels are important year-round, but when the temperatures begin to drop, it is vital to make sure that the fluids in your vehicle are capable of withstanding the change.
Windshield Washer Fluid comes in different solutions—assure yours can handle sub-freezing temperatures.
Coolant [aka Antifreeze] is vital for many reasons—make sure your coolant is at the correct level and is properly mixed to withstand freezing temperatures. DO NOT OPEN RADIATOR CAP WHEN ENGINE IS HOT.
Oil keeps your engine happy. Regular oil changes help to keep the engine's health at its prime, especially while it's working harder in cold weather.
Gas can freeze when not in large quantities. It is best to fill up before your fuel light comes on to reduce the risk of the fuel lines freezing.
---
Exterior
The exterior of your vehicle is going to take the brunt of winter's force– proper maintenance not only aids in the protection of the exterior structure but maintaining your vehicle from the outside-in can also help to retain resale value.
Washing & Waxing your vehicle will help to protect the paint from the elements and dirt.
Mudflaps are a great way to protect your paint from flying rocks and debris.
Nose Guard can protect the vehicle's front end from debris tossed by vehicles ahead of you.
Lights are crucial for driving at night and in adverse weather. Clean headlight housings [buff if needed] and quality bulbs are essential.
---
Interior
For many of us, a lot of time is spent planted in the driver's seat. A place that renders so much attention deserves a little protection and detail. Winter prepping your interior can be done very simply.
Vacuum Carpet and Seats and wipe down trim for a clean slate.
All-Weather Floor Mats will protect carpet from snow and slush.
Micro-Fiber Cloth to clear condensation on the window(s).
Remove Water-Based Products to prevent them from freezing and potentially exploding inside your vehicle.
---
Emergency Kit
Keeping an emergency kit in your vehicle is one of the smartest decisions that you could make. Keeping the basic necessities in your vehicle can make unpleasant and potentially dangerous situations less stressful.
First Aid Kit will bring you peace of mind and can play a crucial role in emergency situations.
Blankets can provide warmth in case you find yourself stranded.
Gloves and Hat are a good idea anytime you'll need to be outside.
Food can keep you fueled if you find yourself on the side of the road for an extended period of time—think crackers and snack bars.
Ice Scraper cuts down window defrosting time immensely.
Shovel can help make for quick work of digging yourself out if a snow bank ends up in your path.
Flashlight and Road Flares are essential to aid in vision at night and signaling other drivers on the roadway.
---
We hope that you now feel confident in preparing your car for winter or at least feel more comfortable in what you should ask for when you visit the service center at a Detroit Area Honda Dealer near you! If you, unfortunately, happen to come across some less-than-ideal signs that your vehicle may not make it through the winter, our lots are well stocked with an impressive selection of new Honda models—which includes models equipped with Honda's tried-and-true AWD drivetrain.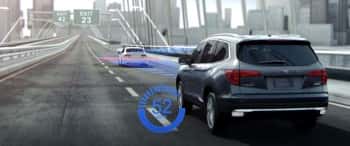 If you have been thinking about upgrading to a newer model, perhaps one with heated seats, this may be the ideal time with our current offers and financing options. Besides the option of having warm seats, many new Honda models can be equipped with Honda Sensing safety technology. The features that make up the Honda Sensing safety suite help to greatly reduce the risk of an accident and can even go as far as helping you completely avoid one! How's that for peace of mind?
Please contact us if you have any questions regarding how Honda can make winter seem more bearable.
---
Before you take action to prepare your car for winter, we want to leave you with one more piece of winter driving advice from the National Safety Council (NSC): "If the weather is frigid, you're going to want to warm up the car before you drive it. To prevent carbon monoxide poisoning, never leave a vehicle running in an enclosed area, such as a garage. In fact, the Consumer Product Safety Commission warns that a car running in an attached garage is never safe, even with the garage door open."